"For I am not ashamed of the gospel, because it is the power of God that brings salvation to everyone who believes: first to the Jew, then to the Gentile" Romans 1:16
Fellowship of Indian Brothers
Fellowship of Indian Brothers (FIB) ministry is actively involved in reaching out to the Indian Foreign Workers working and living in Singapore. The objective of this ministry is to bring the gospel to these foreign workers as well as provide an emotional outlet for these workers, who otherwise live and work in harsh conditions. This ministry is supported by the team of volunteers from our church.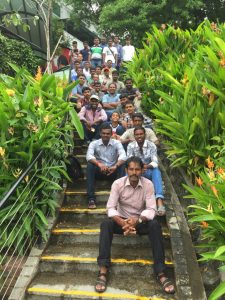 Spoken English Classes
As part of this ministry, our key initiative is the 'Spoken English Classes', which is conducted every Sunday 7 – 9 PM. The objective of this class is to help the Indian brothers to be able to converse in English into their day-to-day life in Singapore. Emphasis is placed on both building the foundation (Grammar & Vocabulary) as well helping them apply the concepts by engaging in practical sessions such as Role play, Written tests etc., Every 3 months, the brothers have a break from the regular classes and participate in indoor games conducted by our volunteers. Dinner and transport arrangements were made as well.
We make regular efforts to bring in new students by way of a video invitation sent via Whatsapp/Facebook, Pamphlet distribution to nearby areas by our volunteers, and, personal introduction through our regular students.
On a regular basis, our pastor shares the gospel with the brothers through our classes and event.
Birthdays were celebrated on a monthly basis with all brothers celebrating their birthdays on a particular month joining together in cake cutting.
In addition to this, outdoor events are organised once in 6 months. The Church had organised a 2-day Stay-in Camp, Sentosa Trip, Barbeque Dinners to name a few.
Church Activities
It's routine for the FIB brothers to stage a variety item in our church Christmas and Easter Party celebrations. The brothers also get an opportunity to present an English song during these events.
Prison Ministry
Our Evangelism representatives often visit Singapore Prison at A1 (HU3) – Tanah Merah / Changi once to share the gospel among the convicts help them with their reformation process.
Neighbourhood Evangelism
Our Church conducts Guitar classes on alternate Saturdays to reach out to the Children in the neighbourhood. The Guitar classes are offered by our own Church members and offered at a hugely subsidised fee.
Hospital Visitation
Church Evangelism Team also organises hospital visitations once in every 3 months. The objective of this ministry to visit the sick and needy in the hospitals, listen to their experiences and pray for them.