Ang Mo Kio Tamil Methodist Church (AMKTMC) is one of the eight local Methodist Churches that form the Emmanuel Tamil Annual Conference in Singapore. With a humble beginning in the 1970's to meet the need for Tamil worship in the Ang Mo Kio and Bishan areas, the Church was constituted in 1980 by Bishop Kao Jih Chung. The Church moved into its current premises at 1 Ang Mo Kio Street 21, in the same year sharing the premises with the TRAC and CAC congregations.
As a growing congregation, we seek to fulfil the mission that the Lord had given to our Church. Through our Worship Service and ministries we constantly seek God's guidance in our lives and pray that the Lord to meet the needs of all who walk into our Church.
If you wish to know more about our Church, planning to visit the Church or participate in any of the activities, please reach us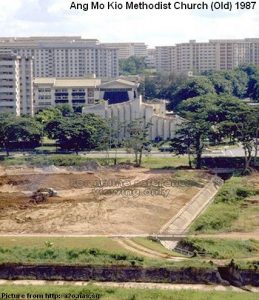 File Photo: The barren ground in front of the church shown in the photo has been developed into Bishan-Ang Mo Kio Park.